Introduction
In 2018, the AnAn International Education Foundation Hong Kong met experts in the field of VR technology, diving & swimming. Furthermore, The Foundation was assisted by elites to research and find that autism will be greatly benefit if it can combine VR and swimming or other sports exercises. Therefore, the Foundation uses its own and social resources to recruit an expert team of relevant fields and develop a project. This project applies innovative technologies to develop courses with related theories and lasting good effects for the autism.
Project Objectives
Partner medical experts to research VR plus swimming/diving/sports technology to provide innovative courseware & theory for the autism.
VR treatment technology has been in existence for decades, and its effects are obvious and can be maintained. However, VR equipment was extremely expensive and not popular in the old days. Swimming/diving courses for autism has been available for many years, even in Hong Kong, and the effects are obvious & can be maintained. However, it is inconvenient and expensive to be trapped in the swimming pool facilities & coaches, it is difficult for autism to be trained daily. The Foundation brings together experienced autistic education experts, swimming/diving/sports training experts, VR technology development experts and medical research experts. Since mobile phone is powerful and VR equipment are popular, it is possible to develop the theory and supplemented & inexpensive VR courseware and equipment. The project's effectiveness can be improved by facilitating the convenience and greatly reducing the cost, so that it can be carried out at home with family members daily, and the training courses can be popularized.
Diving VR Therapy Research Findings
Project Researchers:Mr. Chun Heng CHIU (Jayden) & Mr. Albert Isaac XU
Co-Founders, Social Entrepreneurship Club, The Webb Schools, Claremont, California, USA
Date:2019-04-13
Copyright © AnAn International Education Foundation Hong Kong (Charity) Limited. All rights reserved.
Part 1:
1. Benefits of Aquatic Therapy for Autism.
2. Problems of Current Method.
a. Logistical issues.
A swimming pool or some sort of aquatic facility is integral to the current program which may not be convenient and accessible to many.
Some facilities may also be unsuitable for children with autism in terms of safety and the therapy, making it increasingly hard to find the right one.
b. Personnel considerations.
Requires a coach or someone with experience.
Most coaches in Hong Kong are comfortable and capable of only teaching children without autism; they have limited to no experience with children with special needs. The few coaches that check all the boxes are very hard to find and may not be affordable to the public.
c. Safety hazard.
For children with autism, physically swimming or diving in a pool even with a professional still presents a certain degree of risk and danger.
According to the National Autism Association, accidental drowning accounted for approximately 90% of total U.S. reported deaths among children with autism under the age of 14.
d. Financial concern.
Have to pay for each lesson rather than buying a VR headset one-time.
To maximize the benefits of an aquatic therapy, the sessions have to be continuous and frequent. In a long run, it would impractical to keep paying for these expensive lessons.
A more economical alternative of tantamount quality is necessary.
3. How the Diving VR Kit can Solve these Problems?
a. Developers can see what the child is seeing.
Create a safe and calm environment suited to the needs and challenges of children across the autism spectrum.
b. Allows children with autism to build "joint connection".
Joint attention ​— sharing attention with another person on a common object. For most of us, this is so natural that we don't even notice we're doing it, but it's a crucial skill for social interaction and learning. Their VR program is designed to help teachers build joint attention with their students by reinforcing and rewarding focus on certain objects or activities.
c. Undergo similar experience and achieve results without the need to leave their homes:
Children with autism can simply submerge their bodies in the bathtub and put on the VR headset.
Save time on travelling and more time on the therapy itself.
Once a professional helped the children acclimate to the new surroundings, the children have to freedom to perform such therapy whenever they want to (only require the supervision of an adult, such as a parent).
d. Reduce the risks of drowning:
The safety of these children is our chief concern and it is another reason why adopting VR technology should be a priority.
Even the shallow end of public swimming pools in Hong Kong are deeper than the average depth of bathtubs at home (between 1 to 2 feet).
Most children can stand and sit in the bathtub with their heads above water.
4. Technical Limitation of Currently Available VR Kit.
The VR headset cannot be underwater during the therapy.
VR technology is not entirely waterproof, so it may not provide the child the complete experience of "diving". To make the feeling more authentic, there is a cover foam for VR gears that provides resistance against water (still not waterproof).
Hard to keep the equipment dry even when it is next to a bathtub.
Cost.
The low-cost headsets may be connected to a phone, and less effective for not compatible with the diving program.
5. An Ideal Diving VR Kit.
Waterproof VR headset
Flexible and individualized
The VR headset will allow the child to experience any type of scenario the programmer wants to present. It can be changed throughout the therapy according to the child.
- Gives a specialized treatment, one-and-only experience (unique).
One-time purchase, at reasonable price
Part 2: Research papers on the benefits of VR for autism.
- https://pdfs.semanticscholar.org/358e/28df2cb7720b7100811f4aee7af731164b08.pdf (page 2 – list of benefits)
- https://www.researchgate.net/profile/Paolo_Brambilla/publication/51647647…​ (page 5 – list of experiments and results)
- http://www.pspc.unige.it/~mosip/Virtual_reality_in_neuroscience_research_and_therapy.pdf
Part 3: Research paper on ​DIVING VR TECH (PAPER FROM MIT)
A LOT OF TECHNICAL STUFF (DIAGRAMS AND CHARTS): https://dspace.mit.edu/bitstream/handle/1721.1/106054/964701035-MIT.pdf?sequence=1
Research paper on VR and children (a bit about autism) (​PAPER FROM STANFORD): https://vhil.stanford.edu/mm/2017/02/bailey-jcm-considering-vr.pdf
Part 4 (more technical):
https://internet.psych.wisc.edu/wp-content/uploads/532-Master/532-UnitPages/Unit-09/Strikland _HowStuffWorks_ND.pdf
---
Nonprofit takes the plunge to treat autism (By Nora Zheng | China Daily Updated: April 2, 2019)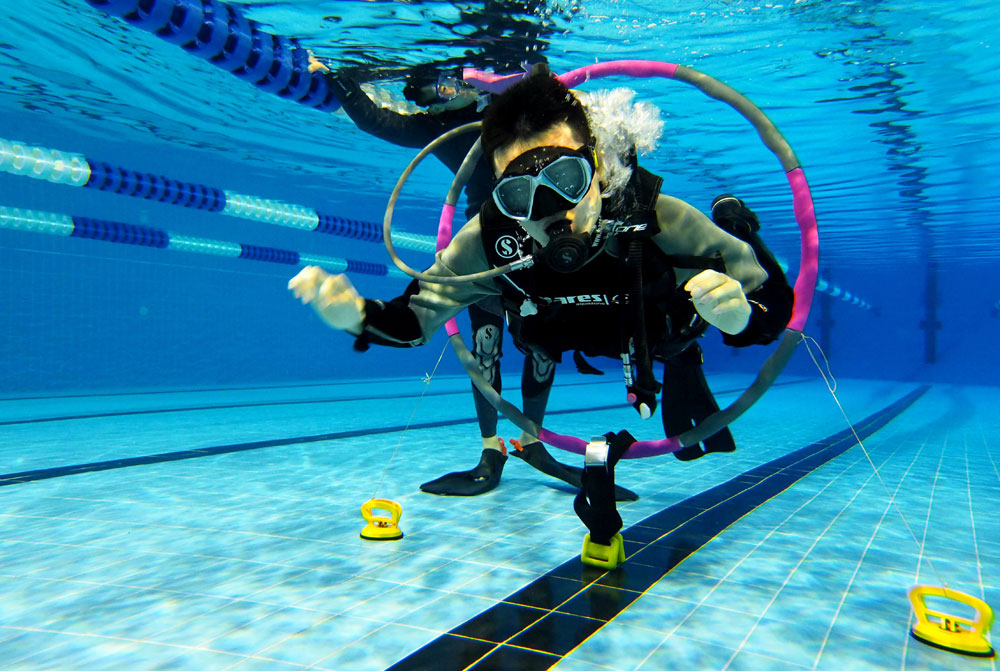 Students with autism take a hydrotherapy class at the warm-water pool of the Heep Hong Society, a children's educational and rehabilitation organization in Hong Kong. [Photo/China Daily]
A charity is providing a water-based therapy to help ease the condition. Nora Zheng reports from Hong Kong.
Two young men with autism, frightened and confused, stood beside a swimming pool, ready for their first scuba diving lesson. Suddenly, the older youth screamed, began punching himself in the head and dropped to the ground, rolling around in an uncontrolled fit.
That scene, from the summer of 2016, is etched in the memory of Chan Leung-bo, 52, former deputy chairman of the Hong Kong Underwater Association.
A nearby parent called out anxiously, "Is he a simpleton? Is he dangerous? Will he hurt my child?" The parent could hardly be blamed for being concerned, as the distressed youth was 1.8 meters tall and weighed 90 kilograms.
On the other side of the pool, a coach working with a group of children kept blowing his whistle, exhorting his students to "Go!" to keep them focused on their training.
People with autism have problems with social interaction and verbal and nonverbal communication to varying degrees, depending on the severity of their condition.
It was hoped that the diving class at the Guangzhou Polytechnic of Sports in Guangdong province would help to ease the autistic episodes of the two youths, ages 18 and 20.
Two coaches had been recruited to help, but the noise, the unfamiliar surroundings and the crowded pool proved unsettling. Chan turned to the stricken youth's mother, who stood weeping nearby. "Do you want to give up?" he asked. "If you want to continue, I'll be with you."
The mother said "Yes". She wanted every effort made to help her son.
A student with autism writes a story underwater in Guangzhou. LUO BINHAO/NANFANG DAILY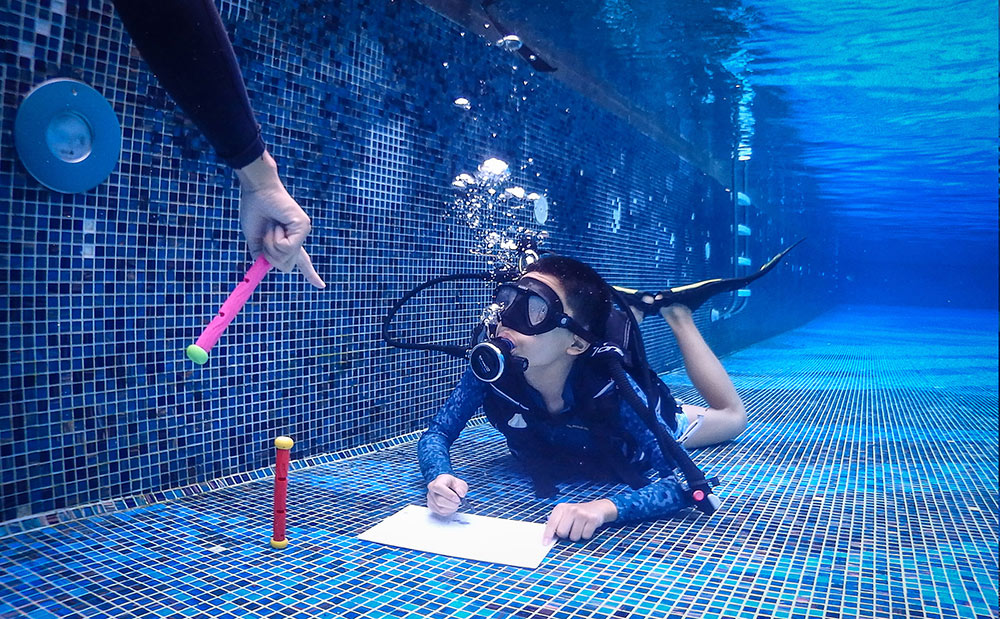 Improved concentration
Chan's diving therapy sessions began several years ago, when he had taught his sons, both of whom have autism, to scuba dive.
"It was magical. They could concentrate better underwater and they listened to me more," Chan said, speaking ahead of World Autism Awareness Day, which falls on April 2 every year. "Maybe because of the quietness and weightlessness underwater, they felt comfortable."
His friend, Winston Shum Chakwing, also noticed a change in Chan's sons after they became involved in the diving classes.
He suggested that Chan establish a nonprofit organization to teach diving to a larger number of children with autism, so that's what Chan did.
"I know how hard it is for autistic children to learn new things. It's almost impossible for them to take any interest in classes with ordinary children. I thought it (the nonprofit) was worth trying," he said.
Chan contacted a teacher in the special education department at Guangzhou Children's Palace, where youngsters can take part in extracurricular activities, and asked if young people with autism at the center would be interested in learning to dive.
The teacher asked around, and to Chan's surprise, many parents were eager for their children to learn.
Liao Chaoqing was one of them. Her son Yonghao, who was 19 at the time, has moderate autism. He had just graduated from a vocational high school, but he could lose control at any time, hitting his mother, shouting and throwing things.
"Maybe he was angry at me for not spending enough time with him when he was little. Maybe he thought I could be a target for his unconditional outbursts. When he got mad, he always came at me," Liao said.
Initially, she took Yonghao to a doctor, who prescribed medicine to help him control his temper.
"I was so anxious and on the verge of a breakdown," Liao recalled.
She added that no doctor or social worker was actively following Yong-hao's case, so there was no one she could turn to for help.
A student with autism writes a story underwater in Guangzhou. Provided to China Daily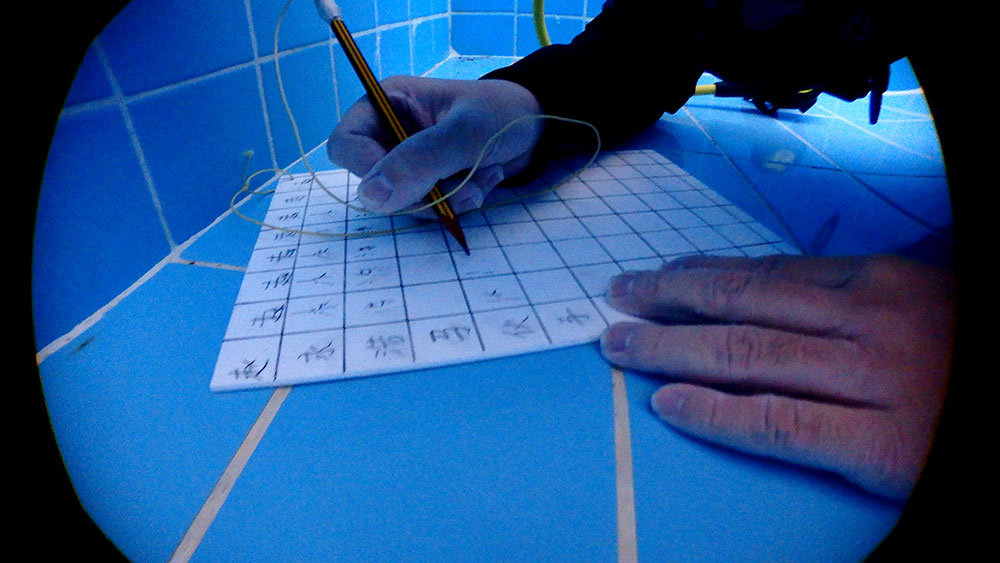 Poor prospects
Autistic youths like Yonghao have poor life prospects. They may graduate from special schools or vocational high schools, but no one will hire them. With no government organization to help them, most stay home and do nothing.
"I just wanted him to attend more activities," Liao said. "Diving is a very good sport in my opinion, and Mr. Chan has two autistic boys, so I trust his experience."
After his first, formal effort with the two young men came close to disaster, Chan tried to find a quieter pool, but it wasn't easy.
"Good private swimming pools are very expensive. What's more, no one wants to rent out their swimming pool for people with autism," he said.
The pool at the polytechnic, where Chan used to teach, proved to be the only option at the time. He had to reschedule the diving classes for quiet periods, usually between noon and 2 pm, or 6 pm to 8 pm. The new times disrupted meal breaks for coaches and students, but it was the best he could manage.
Liao saw her son progress in the diving classes. Yonghao seemed to enjoy being underwater and appeared relaxed when diving with Chan.
Liao also noticed that he became more focused in the water. Using special materials, Chan lets his students read and write underwater. Yonghao loves the activity-he could hardly read or write before he started the diving classes.
The training gives Liao a place to go and share her concerns about Yonghao's condition with other people, and she has found that this basic contact provides more inspiration to work with him.
Meanwhile, Chan gives advice, based on his experiences with his sons, or shares approaches adopted by social workers in Hong Kong.
Liao has taken Chan's advice to talk with Yonghao every night. She tries to maintain eye contact and always remains calm if he loses control.
"My friends all say Yonghao has changed a lot and made real progress," she said. "The advice about getting along with him has really helped."
Diving coach Chan Leung-bo encourages a child with autism to train in a swimming pool in Guangzhou, Guangdong province. LUO BINHAO/NANFANG DAILY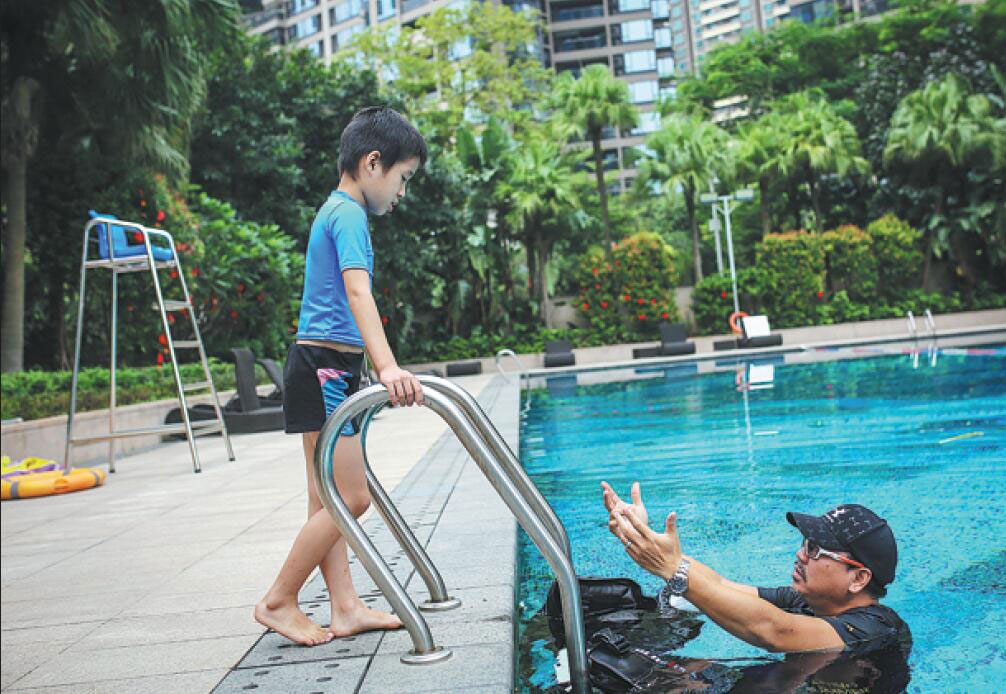 Therapy
Sheila Yip Shu-na, supervising physiotherapist at the Heep Hong Society, a children's educational and rehabilitation organization in Hong Kong, said exercising in water often produces special results, compared with other types of physiotherapy.
Hydrotherapy can help improve autistic children's attention levels and body awareness, and can also boost their social skills through imitation and games played in groups.
Some autistic children have problems with coordination and balance, but those issues can be mitigated by underwater training, and moving their bodies against the resistance of the water can also improve muscle strength, Yip said.
She added that the standard water temperature for training is 32 C to 34 C: "In such temperatures, children can relax and learn to control their bodies and coordinate their limbs."
However, some experts are skeptical about the value of diving therapy for people with autism.
"It could be a method of recreation, but it's not a mainstream therapy," said Zou Xiaobing, director of the Child Development and Behavior Center at the Third Affiliated Hospital of Sun Yat-sen University in Guangzhou. "Diving itself cannot intervene in the main problems of autism."
According to Zou, mainstream treatments include applied behavioral analysis and speech therapy, which focus on improving specific behaviors, such as social and communication skills, and reading.
Zou said Hong Kong has the advantage of exposure to advanced training from overseas and also has great experience in terms of community care.
He suggested that instead of relying on nongovernmental efforts, the Chinese mainland should attempt to absorb Hong Kong's long experience and establish long-term official cooperation.
"Using Hong Kong's experience to build up our own community care system could be extremely meaningful," Zou said.
A student with autism draws underwater in Guangzhou. Photo provided to China Daily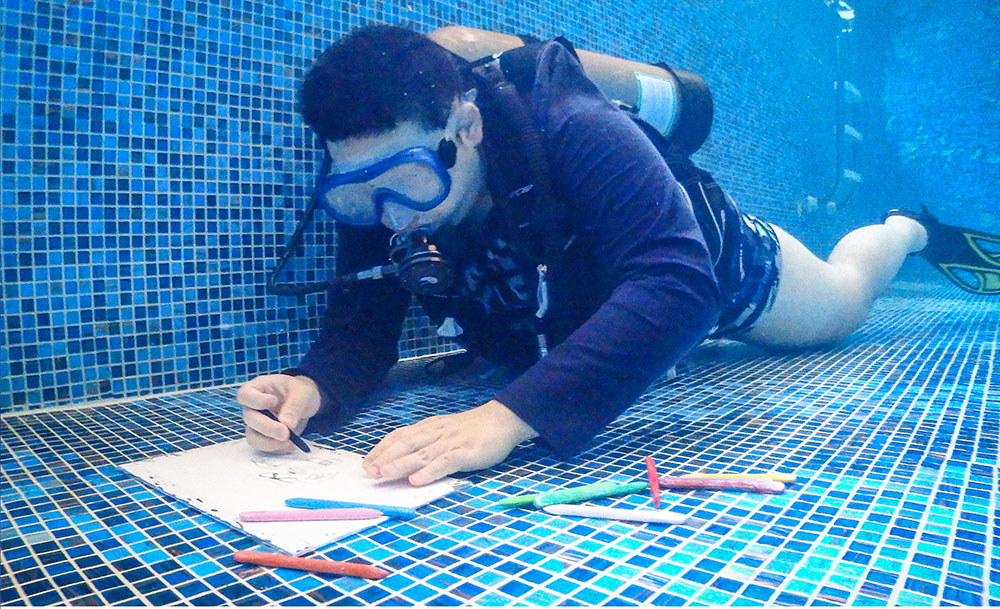 Progress
Even when faced with skepticism, Chan never thinks of giving up.
"Although I'm not a therapist and no research has been conducted on the effects of diving, my students are making progress. They want me to give more classes, so I will carry on," he said.
About 60 students have participated in the scuba diving program, which is free for most of them. Around 70 percent of the students are ages 16 to 20.
Thanks to financial help from the Times Foundation, a charity in Guangzhou, Chan and his students can take diving classes at a community swimming pool in the city's Panyu district.
He takes a four-hour bus ride from Hong Kong to the city every Monday and returns to Hong Kong every Friday to spend weekends with his family.
"The high-speed train is amazing; it only takes 90 minutes to get back home from Guangzhou, but it's expensive. I only take the high-speed train when I'm in a hurry," he said.
For Liao and Yonghao, the diving classes are like therapy sessions that make up for the lack of community care.
Yonghao, now 22, has been promoted to the role of assistant instructor at the diving sessions. He takes care of the younger children while continuing his own training.
Liao is still learning from her weekly discussions with Chan, and she shares what she has learned with other parents.
After Yonghao had been taking the diving classes for about a year, she asked him during their regular nightly chat, "Can you forgive me for not spending very much time with you when you were little?" He replied, "Yes, I forgive you, mom."
For Liao, his answer spoke volumes. While she doesn't expect Yonghao to enjoy the prospects open to other young men, it's enough that they can now live together happily.